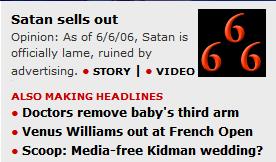 This is what I woke up to this morning when I checked the front page at
MSNBC.COM
.
Wow. I don't even know where to start with this one.
YAUSB should be done today (Tom, the "USB" in this instance stands for three words, one of which is an acronym), so the rest of the week can be spent on Arena Mode.
Of course, I'll be out of the office on Friday for
A-Kon
, but I have faith that my QA team can function without me.