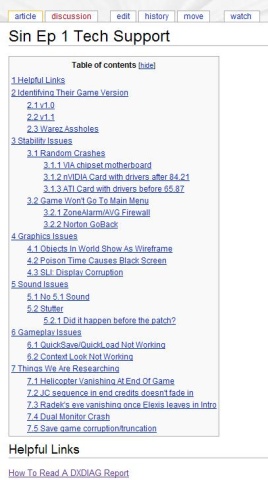 I've been trying to keep on top of the problems that have been facing our community. Aside from some minor lingering issues, the vast majority of people who were having problems seem to have had them fixed by the patch.
There's even been a lull this afternoon, which has been nice. I've been using that time capturing solutions to common issues to our internal wiki for quick reference and retrieval.
This wiki page has two major purposes. First off, it gives us a common area to keep solutions and problems. If a solution that works in v1.1 won't work in v1.2, we can easily change it in one place without any real problems.
The second function is to make it so that if necessary, we can hand support duties off to other people for brief periods. I've been working for nineteen days straight, and I know I'm going to need some downtime soon.
All in all, this has been a pretty smooth launch. I remember the aftermath of some of the "Links" launches...ugh, the stuff that nightmares are made of. I mean, if one person can handle all the tech support duties for the first five days of a product's lifetime, how bad can the launch have really been?