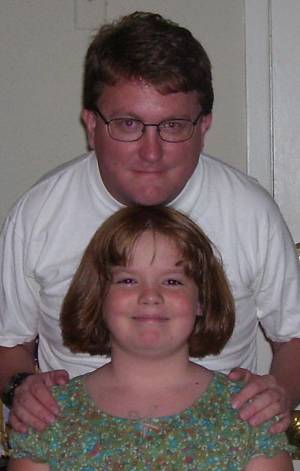 Tonight was my last night with my granddaughter Kait. Yvonne is taking her back to Utah tomorrow morning and she won't be back until the ninth.
I didn't get to spend a lot of time with her because of our crunch period at work. I'm hoping I can get up to Utah later this year to spend some real time with her.
On the upside, we were able to spend some quality time together. We went on several walks and talked about a lot of the things that mattered to her. She was kind of sad that she wasn't able to see
Squirrel at Ritual
while she was down here, but she understood why. She's growing into a normal pre-teen as her relationships at school and her phone etiquette have shown. She's improving at playing a regular guitar but I can still kick her ass at "Guitar Hero II."
It's kind of a sad commentary on the type of job that I get where it doesn't matter where I'm working, I always end up in crunch mode when my granddaughter is around. Last year when I was at Ritual, she was at least able to come down and spend a little time with me at the office while I was busy fighting off
pirate assholes asking for tech support
. This year, even my weekends were spent trying to finish up the site for a Montreal launch just to be undercut by the underwriters and this last weekend was spent being the at-home support structure for eighty people in a country I've never been to.
At least I'll be able to see them both off in the morning before going into work, and hopefully we'll get to see each other again this holiday season.