Just by looking at these DVD's, which on my monitor is the equivalent of looking at the cases from approximately ten feet, can you tell what these are rated just by looking at the box?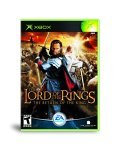 (Images from
Amazon.com
)
(Hint: On the Xbox version, look at the big eyesore of a white spot on the box.)
Even badly pixelated, you can tell that the Xbox game is rated "T" for Teen. The DVD? It's rated "PG-13," but you can't tell by looking at the front. You have to look at the back of the DVD and look for a logo that blends with the rest of the text in the area that's about a quarter-inch tall when combined with the content descriptor. Turn a game over, and you get an even larger version of the rating symbol with a standard size content descriptor.
What's really sad is that half of the "unrated bonus features" that members of the MPAA get away with putting on their DVD's would plant most games firmly into "AO" territory...oh, well...such is life.